Engineer hand using tablet, heavy automation robot arm machine in smart factory industrial with tablet real time monitoring system application. Industry 4th iot concept.
Sign up for your free 30-day software trial and see how you can improve the serviceability and traceability of your products for greater profitability.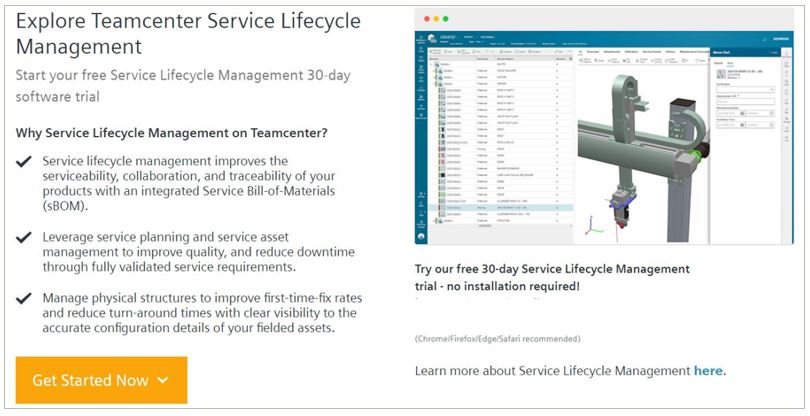 Delivering effective and profitable product service continues to be a challenge in manufacturing today. Look to Service Lifecycle Management to reach a significantly higher level of service delivery.
With the free-software trial – you can explore Teamcenter Service Lifecycle Management at your own pace with a guided tutorial. See for yourself how the world's #1 choice in PLM can help you turn service into profits.
Benefit from Teamcenter Service Lifecycle Management software
With Service Lifecycle Management (SLM) on Teamcenter, you can improve communication between service and product design teams for better serviceability and reliability. You can effectively coordinate operational activities for greater compliance, faster service, and lower costs. You can perform service activities with a full understanding of physical asset configurations, including physical BOM records, status, and service history. You can gain access to all the appropriate information necessary to manage service operations more effectively.
Teamcenter Service Lifecycle Management provides integrated service engineering capabilities at all phases of the product and service lifecycle.
The Service BOM enables better collaboration across functional domains, and provides tools to manage what parts need to be tracked and maintained.  The existing product configuration rules and effectivity can be leveraged for a clear understanding of the valid asset configurations.
With Service Planning, you can define all the requirements for product maintenance. This provides the how, why, and when of the various maintenance items.
Physical Structures are used to track the configuration history and unplanned failures of specific assets. They track how they are used, what's installed and when, if changes are needed, and any deviations from the approved engineering intent.
Maintenance Actions allow the as-maintained structures to be continually evaluated against the service requirements to determine what work will be needed at a particular point in time. This allows a scope of work to be packaged and tracked to completion.
Try Teamcenter Service Lifecycle Management with this free-30 day trial, today.
Learn more about the Importance of Service Lifecycle Management by listening to the podcast.
Don't hesitate to contact Thanh for advice on automation solutions for CAD / CAM / CAE / PLM / ERP / IT systems exclusively for SMEs.
Luu Phan Thanh (Tyler) Solutions Consultant at PLM Ecosystem Mobile +84 976 099 099
Web www.plmes.io  Email tyler.luu@plmes.io